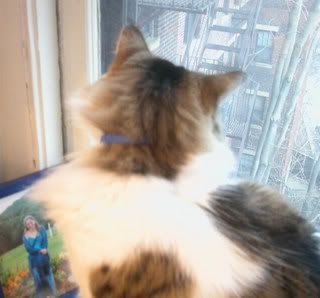 Even Zack is watching the rain fall today. Today would be the perfect day to lay in bed with him and knit all day but sadly I have work and class. I have done a lot of work on the tank top, and the interesting part is done and the next step is to knit over and over until it is 2.5 inches from the pin I placed.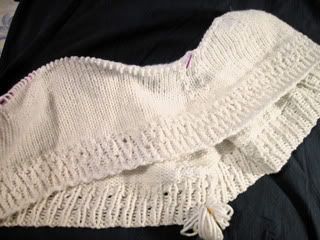 I am so proud of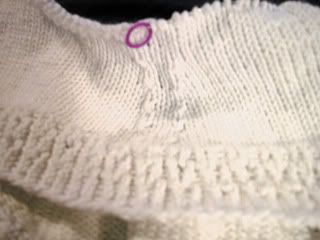 my decreases that I had to take a picture of just them. They are so cute lined up like that. The lace twisted ribbing at the bottom also looks really good, especially now that I am done with it. It took so long and felt so funny doing it, but I can see what it is there.
In other knitting news, I ordered some Queensland Cotolino in color 17 to make Cables and Os from "No Sheep for You". That pink cardigan has been calling me and I can't wait to make it. For some reason pink has been calling to me. Also socks but I have been trying to ignore that call.
Maria and I are also planning to buy bus tickets to go see Yarn Harlot at WEBS in May. There were tons of reasons to not go, like work and school and getting out there but it will be after school is over for me, there is a bus leaving from Riverside and I can work in the morning and still go out there. We can't wait. It may or may not be our first trip to WEBS depending if we go out there once earlier this spring to visit my sister. Either way, we order way too much stuff from them.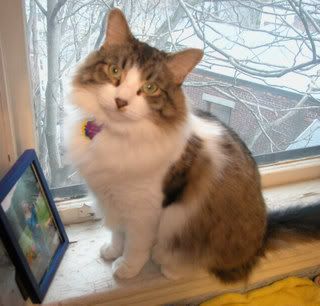 Zack is not thrilled about the weather or having his photo taken.